GO! is a combination of coffee beans and natural sugars designed to deliver energy quickly and maintain it. We add nonfat milk for flavor.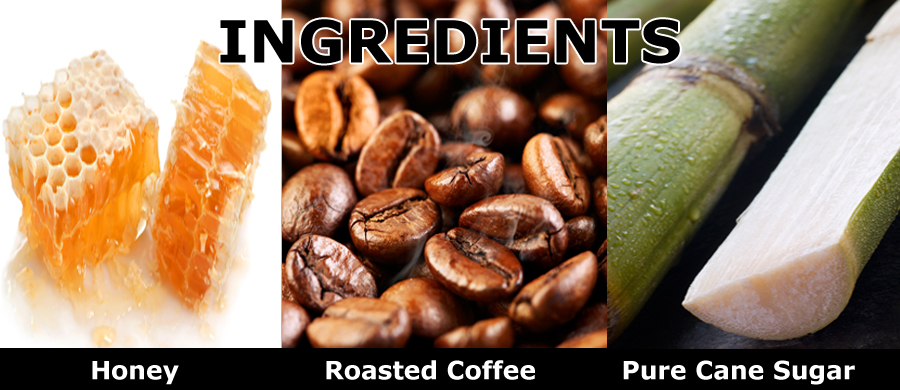 Our goal is to make our products as healthy as possible. The benefits of coffee and honey have been known for over a millennium and have been included in many religions. In the last century poorly conducted research which did not differentiate between lifestyles of coffee drinkers, such as smoking or being sedentary, has created confusion.
When coffee beans were first discovered in Ethiopia man ate them before he learned to boil them. The legend of Kaldi, the Ethiopian goat herder, and his dancing goats is well known. The story of the monks that ate them may not be.
We believe eating the fruit is more beneficial then drinking the juice.
Following this theory we use a combination of roasted arabica and robusta beans to maximize flavor and caffeine levels. A pinch of our product is equal to a strong cup of coffee. In a container of GO! Coarse you conservatively get 5 cups of coffee while in a tin of GO! Fine 4 cups.
We use honey to deliver energy quicker and to compliment the caffeine. Our honey is obtained from well reputed US farmers to ensure quality.
Pure cane sugar is used to supplement the honey and increase the effectiveness of the caffeine in the coffee. Like honey, it also increases mental alertness quicker than caffeine.
Go Coffee Energy – Ingredients
ingredients are as basic as your cup of coffee. We use a combination of coffee beans for caffeine and natural sugars to deliver energy quickly and maintain it. Nonfat Milk is added for flavor.
Coffee – Arabica and Robusta beans to maximize caffeine.
Honey – 100% US for quick and lasting energy plus health benefits.
Pure Cane Sugar – for quick, natural energy.
Nonfat Milk- for flavor
*Manufactured in a facility where allergens may be present.
Go Coffee Energy – How to use
Put a pinch between your cheek and gum, chew it, or however you may like.